I love Christmas cards, sending and receiving.  I love the process of picking out just the right photo and then just the right card to coordinate with the photo. I have used several different companies in the past but this year I am planning to try Shutterfly thanks to their promotion of 50 free cards!  (I really like the quality of their photo books and their customer service.) I enjoy sending a Christmas message updating friends and family or sharing a message about Christmas and what it means to us. Shutterfly has a great selection of Christmas cards and what I especially like this year is their collection of Religious Christmas Cards since this is of course a religious event. So far, my favorite is this card but I have to find the perfect picture and see if it works with this design.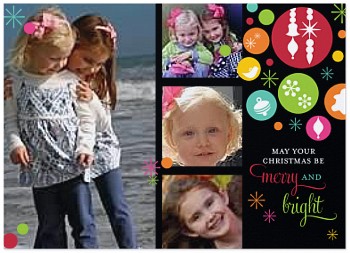 Dazzle And Shine Christmas 5×7 folded card
So if you are interested in this great promotion from Shuttefly, share on Twitter, Facebook, or in your post: Bloggers get 50 free holiday cards from Shutterfly… sign up: http://bit.ly/sfly2010.
So get your camera out, take some great photos and then get to work picking out your card and your message.